Songs I was captivated by the first snippet of this song on David Archuleta's Central Park video. We fans already knew the guy can sing! This song on his new sophomore pop album, The Other Side of Down, proves his vocal ability. It has a broad range, challenging David's upper and lower registers. It's an up­tempo song sung with passion and dynamism. David handles the high key, and even key changes, with a fluidity that makes the song resonate.
"Something 'bout Love"
by David Archuleta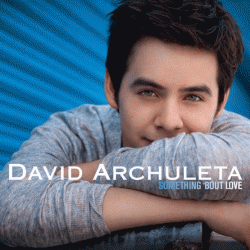 "Hang on, hang in, for the ride of your life," Archuleta croons with clenched fists. The slow-motion shots nicely capture the romantic vibe of the track, and Archuleta makes for a compelling pop presence." So says Billboard.com of David's music video for SBL. The "dreamy" cover photo, shown here, for the single got almost as much fan praise as the song. Neon Limelight wrote, "The simplistic — and very blue — single cover shows the 19-year-old singer/songwriter with his arms crossed and staring into the camera (and deep into your soul!) with his gorgeous hazel peepers. Now that's something to love."
SBL Music Video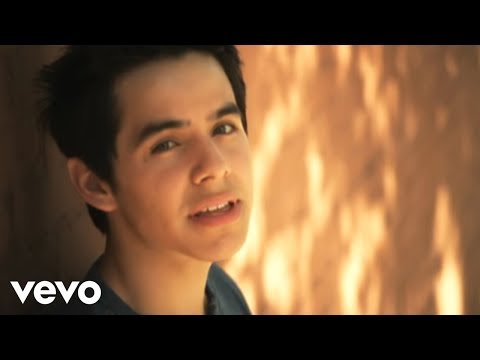 Video source: David Archuleta VEVO
(C) 2010 JIVE Records, a unit of Sony Music Entertainment
Length: 3:58 minutes
"Something 'bout Love" snapshot
Written by David Archuleta, Sam Hollander and Dave Katz (AKA "Sluggo") on a Manhattan rooftop.
Premiered as first single on AOL Radio 30 June and was available on iTunes 20 July.
Music video released 6 August.
Released 5 October on David's third studio album, The Other Side of Down.
Read and print the "Something 'bout Love" lyrics.
Buy "SBL" and all the other songs from David Archuleta's Official Store.
Trivia: in the music video, David's younger brother Daniel appeared in the basketball scene. (in dark clothes around :25)
Let's never forget David's debut album! Most of the songs from Katie's collection of Songs of the Week are from David Archuleta.
Last week's Song of the Week
David Archuleta, the Voice
Copy this short URL to share this post anywhere: http://www.dabuzzing.org/?p=18433

Tags: AOL Radio · Dave Katz · iTunes · Jive Records · music video · Sam Hollander · Something 'bout Love · Song of the Week
Filed in: career|minja|music|performances|reviews|voice
This Post has no Buzz yet.