Usually, there are 12 Days of Christmas, from Christmas Day to Twelfth Night on January 5, but not this year. With David Archuleta's debut holiday album, we can now add a bonus day—13 days of Christmas, a day for the album's 13 songs.
The 13 Days of Christmas
David's holiday album, Christmas from the Heart, is a collection of 13 songs, including familiar English, French, and Spanish carols, a couple of popular tunes, and an original song entitled "Melodies of Christmas." If we associate each song with one of the 12 Days of Christmas, we are left with an extra song for the Day of Epiphany. How perfect! As we are taking down the Christmas tree and packing away the decorations, we can hear the "Melodies of Christmas" and stow away our own memories of Xmas 2009 in our collective minds.
Counting the 13 Songs of Christmas from the Heart:
"Joy To The World"—December 25, Christmas Day
"Angels We Have Heard"—December 26, Saint Stephen's Day, also called Boxing Day
"O Come All Ye Faithful"—December 27
"Silent Night"—December 28, Childermas or the Feast of the Innocents

*

"The First Noel"—December 29
"O Holy Night"—December 30
"Have Yourself A Merry Little Christmas," a David Archuleta & Charice Pempengco duet—December 31
"I'll Be Home For Christmas"—January 1
"Pat-A-Pan"—January 2
"What Child Is This?"—January 3
"Riu Riu Chiu"—January 4
"Ave Maria"—January 5, Twelfth Night
"Melodies Of Christmas"—January 6, the Day of Epiphany
* December 28, also David Archuleta's birthday. He will be 19 years of age.
Counting 355 gifts
As we sing the song, "The Twelve Days of Christmas," counting up all accumulated 354 gifts, we can add another gift this year as well, Christmas from the Heart by David Archuleta.
On the thirteenth day of Christmas, | My true love sent to me | Twelve lords a-leaping, | Eleven ladies dancing, | Ten pipers piping, | Nine drummers drumming, | Eight maids a-milking, | Seven swans a-swimming, | Six geese a-laying, | Five gold rings, | Four colly birds, | Three French hens, | Two turtle doves, and | A partridge in a pear tree | Holiday album, Christmas from the Heart.
David Archuleta's collection of Christmas tunes is the perfect holiday gift. Buy one for your family, friends, and neighbors. Team Archie is once again facilitating the giving and the receiving of David's music. You can make a gift to those who cannot purchase the album themselves. You can request a gift for yourself.
Christmas album TODAY!
Order yours today on Amazon.com!
DA Postcard Blitz: Today is D-DAY!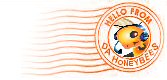 Let the Christmas holiday season commence! Today David Archuleta's first holiday album is available for our listening pleasure. Do you have your "Thumbs Up" postcard ready to post? Review the plan of action and get all the details, including the mailing address for David Archuleta. I have extra postcards, so I can mail a postcard for anyone who makes a request soon. Let's thank and congratulate David today!
Buzzword
epiphany
Etymology: Middle English epiphanie, from Anglo-French, from Late Latin epiphania, from Late Greek, plural, probably alteration of Greek epiphaneia appearance, manifestation, from epiphainein to manifest, from epi- + phainein to show — more at fancy
Date: 14th century
1 capitalized: January 6 observed as a church festival in commemoration of the coming of the Magi as the first manifestation of Christ to the Gentiles or in the Eastern Church in commemoration of the baptism of Christ
2: an appearance or manifestation especially of a divine being
3 a (1) : a usually sudden manifestation or perception of the essential nature or meaning of something (2) : an intuitive grasp of reality through something (as an event) usually simple and striking (3) : an illuminating discovery, realization, or disclosure b : a revealing scene or moment
Hearing David Archuleta sing "Ave Maria" is a musical epiphany of joy and love.

Before you start memorizing "Riu Riu Chiu," here's one final thought…
Buzz-phrase
Angels we have heard on high,
Sweetly singing o'er the plains,
And the mountains in reply
Echoing their joyous strains.
(Refrain)
Gloria, in excelsis Deo!
Gloria, in excelsis Deo! ~ Words: Tra­di­tion­al French car­ol (Les Anges dans nos cam­pagnes); trans­lat­ed from French to Eng­lish by James Chad­wick, 1862.
Now make a beeline to last week's "Type Bee". Catch you next week!
Creating Sweet Buzz for David Archuleta
Copy this short URL to share this post anywhere: http://www.dabuzzing.org/?p=6518

Tags: Christmas from the Heart · DA Postcard Blitz · gifts · minja · Twelve Days of Christmas · Type Bee
Filed in: career|columnists|David Archuleta|minja|music|news|opinions|voice
This Post has earned 2 Buzzes.