Last month a visit to the museum created a time warp, taking me back nearly 3400 years when Egypt was ruled by a boy-king. At the age of nine Tutankhamun began his reign, which ended suddenly at his death ten years later.
Tut Mania Redux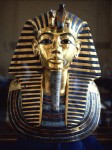 I'm so glad that I saw the boy–king's solid gold funeral mask at the "Treasures of Tutankhamun" exhibition in 1979. That mask will never leave Egypt again. Today it resides at the Egyptian Museum in Cairo, but soon it and the other 5,000 artifacts from Tut's tomb, including his solid-gold inner coffin, will be moved to a new museum. The Grand Egyptian Museum, being built by the Egyptian Supreme Council of Antiquities alongside the pyramids in Giza, should be completed by 2013 at a cost of $US 550M. The current exhibition, "The Golden Age of The Pharaohs," will raise money for the Giza museum. If you live near San Francisco, Denver, or Toronto, try to see it.
Photo Credit: Egypt Archive copyright free
King Tut Song and Dance
On the April 22, 1978 edition of Saturday Night Live, comedian Steve Martin entertained the nation with his "King Tut" song and dance. I saw him LIVE during his "white-suit" concert tour. So what does any of this have to do with David Archuleta, you ask? Well, it's like the six degrees of separation. The last time Steve Martin guest-hosted Saturday Night Live in January 2009, the musical guest was Jason Mraz, a musical artist greatly admired by David Archuleta. And Mr. Mraz played at King Tut's Wah Wah Hut in Glasgow, Scotland on June 8, 2003. So that's my excuse for rambling on about King Tut, the original.
Watch Steve Martin's performance of the song "King Tut" which he wrote and recorded on his album A Wild and Crazy Guy. I read that the backup singers were called "Toot Uncommons" and were actually members of the Nitty Gritty Dirt Band.
SOURCE: http://www.nbc.com/saturday-night-live/video/clips/king-tut/976141/
Buzz Word
The sound of music from ancient Egypt is lost forever. Although Egyptians were among the first humans to invent a written language, no musical notations survive from their early civilization. From their tomb paintings and other art, we know they had harps, flutes, lutes, lyres, clarinets, and percussion instruments, but we'll never know how their music sounded.
The child god Ihy (Ahy, Ehy, Ahi), son of Hathor, was protector of music and musicians. He claimed that playing music for a god was as important as food and incense in a worship ritual. Ihy's name means "sistrum-player" or "musician" and he personified the jubilation experienced while playing Hathor's divine musical instruments.
sistrum (plural: sistrums, sistra) is a musical instrument of the percussion family, chiefly associated with ancient Egypt. It consists of a handle and a U-shaped metal frame, made of brass or bronze and between 76 and 30 cm in width. (sacred musical rattle)
SOURCE: More about sistrums, including pictures
Buzz-phrase
Dateline: Mesopotamia, 3500 B.C. That's when the multi-faceted sounds we call music got its humble beginnings. It seems clappers were sent out in the fields to scare evil spirits away. These clappers started getting into the beat of their duty and, bingo, you got drums. From there, horns, strings, reeds, the whole orchestral gestalt. So, born in staving off death, music continues to nourish us in a variety of forms as different as the colors of the spectrum.

– Jeffrey Vlaming, Northern Exposure, Heroes, 1992
Creating Sweet Buzz for David Archuleta
Copy this short URL to share this post anywhere: http://www.dabuzzing.org/?p=7292

Tags: King Tut · Mesopotamia · minja · Type Bee
Filed in: columnists|David Archuleta|minja|music
This Post has earned 6 Buzzes.