The holiday season is around the bend, over the river, and through the woods. Time for giving & receiving, being thankful, singing carols. Would that we people of Earth might spend every day in the holiday spirit! Forget war. Be kind. Trade more money for more time with our family. Remember our manners. It sounds so simple—and it is—but it does require a new perspective.
Thanks, Earth!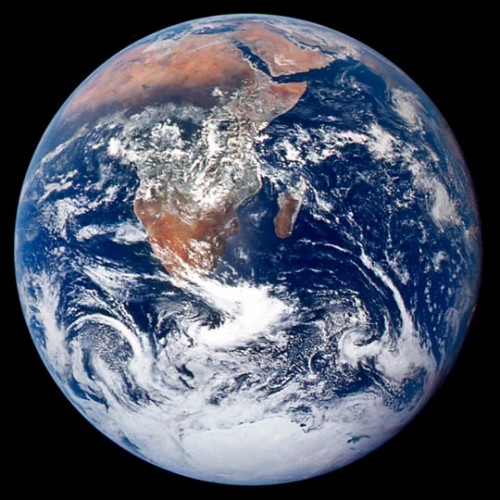 From the perspective of space, our home is a beautiful Blue Marble. This stunning photograph was taken by American astronauts during NASA's Apollo 17 lunar mission in December 1972. What if every one of us could take a trip on a spaceship and look back at this amazing orb we call home? We would return to Earth fully prepared to celebrate Earth Day, Thanksgiving Day, Christmastide, and New Year's every day, year in and year out! We would be motivated to express our profound gratitude. As David Archuleta recently quoted from a Yogi Tea proverb, "An attitude of gratitude brings opportunity." True gratefulness comes from knowledge and awareness of our humble existence.
NASA astronauts have written eloquently about their space travels. Here is what James Irwin wrote about seeing his home planet from space:
The Earth reminded us of a Christmas tree ornament hanging in the blackness of space. As we got farther and farther away it diminished in size. Finally it shrank to the size of a marble, the most beautiful marble you can imagine. That beautiful, warm, living object looked so fragile, so delicate, that if you touched it with a finger it would crumble and fall apart. Seeing this has to change a man, has to make a man appreciate the creation of God and the love of God.
– James Irwin, Lunar Module Pilot, Apollo 15
SOURCE: More info on The Blue Marble
Thanks, David!
As we land safely back on Earth from our imaginary space trip, we find that many Earthlings have been listening to Christmas carols, even before Halloween. Has the world turned upside down!? Well, not exactly. Thanksgiving comes before Christmas this year, as with every year, but we fans of David Archuleta have been joyfully listening to Christmas songs from his debut holiday album. Christmas from the Heart is a collection of 13 songs, including familiar English, French, and Spanish carols, a couple of popular tunes, and an original song entitled "Melodies of Christmas." From my wider perspective, it has seemed perfectly normal to be listening to "Ave Maria" and "O Come all Ye Faithful" in October! "An attitude of gratitude brings opportunity," and we very grateful fans have used every opportunity to hear David sing these carols. And you can be sure we will gratefully fill many Christmas stockings with David's holiday CD.
Buy, Gift, and Donate!
Give Christmas from the Heart to your nearest and dearest. They will be forever grateful!
Christmas album TODAY!
Order yours today on Amazon.com!
Buzzword
gratitude
Etymology: Middle English, from Anglo-French or Medieval Latin; Anglo-French, from Medieval Latin gratitudo, from Latin gratus grateful
Date: 1523
: the state of being grateful : thankfulness
At times our own light goes out and is rekindled by a spark from another person. Each of us has cause to think with deep gratitude of those who have lighted the flame within us.
– Albert Schweitzer

As you count your blessings, here's another thing to add to the long list…Music!
Buzz-phrase
Music is a moral law. It gives soul to the universe, wings to the mind, flight to the imagination, and charm and gaiety to life and to everything. ~ Plato
Now make a beeline to last week's "Type Bee". Catch you next week!
Creating Sweet Buzz for David Archuleta
Copy this short URL to share this post anywhere: http://www.dabuzzing.org/?p=7498

Tags: Blue Marble · Christmas from the Heart · Earth · minja · space · Thanksgiving · Type Bee
Filed in: columnists|David Archuleta|minja|music|opinions
This Post has earned 3 Buzzes.