DA Honeybees here at DA Buzzing dot org will celebrate our first online anniversary this Friday, November 20. That's the official date the domain was created at my new server.
Happy Anniversary, Honeybees!
I had created dabuzzing.org as a WordPress.com blog in mid-September of last year when it seemed to me that Hey! Nielsen, a social network-market research website, would not last much longer. H!N never got out of beta and kept all of its participants in the dark about how the data was used. I wanted to provide a place for the Honeybees to "create sweet buzz" about David Archuleta.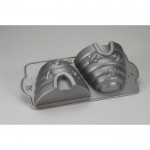 If I knew you were comin' I'd've baked a cake! Just kidding—I'm no Martha Stewart. But I will show you a mouth-watering photo of a lovely honey cake. Come back on Friday to see it: a beehive cake, glazed with glistening honey, and decorated with plump black-and-yellow marzipan bees. I'm going to order one of these beehive cake molds from Nordic Ware, so maybe by next year, I'll be able to bake a beehive cake for real. But then how will I ship it to all the Honeybees? I might have to eat the cake and then describe how it tasted for all the Honeybees. Will that be satisfactory? Er, I didn't think so! haha.
Celebrate DA Buzzing!
For many reasons honey bees are the ideal symbol for us fans of David. They buzz; we buzz. They swarm to their hives; we swarm: to concert halls to see David, to fansites to learn the latest news, to radio and TV to hear and see our Idol. Honey bees are loyal to their hive; we are über loyal fans-for-life. Maintaining a bee colony is akin to expanding a singer/songwriter's fan base. An enraged bee—or fan!—might sting. The honey bee is the State Insect of Utah and the honeybee and beehive emblems are seen all over David's home state.
Ways to Celebrate, Bee-style:
Do you have a special way of celebrating DA Honeybees? Let us all know in the comments section.
I'd like to thank each of you who read, write, comment, and support our 'buzzy' blog. May you forever enjoy the music of David Archuleta and 'swarming' with other buzzing Honeybees. May the Hive Thrive!
Buzzword
celebrate
Main Entry: cel·e·brate
Pronunciation: \ˈse-lə-ˌbrāt\
Function: verb
Inflected Form(s): cel·e·brat·ed; cel·e·brat·ing
Etymology: Middle English, from Latin celebratus, past participle of celebrare to frequent, celebrate, from celebr-, celeber much frequented, famous; perhaps akin to Latin celer
Date: 15th century
transitive verb 1 : to perform (a sacrament or solemn ceremony) publicly and with appropriate rites
2 a : to honor (as a holiday) especially by solemn ceremonies or by refraining from ordinary business b : to mark (as an anniversary) by festivities or other deviation from routine
As DA Honeybees celebrate our first year, we know that David Archuleta is not just a 'celebrity,' but a human being worthy of great celebration.

Pause in your celebrations to ponder the plight of the honey bee…
Buzz-phrase
"If the bee disappeared off the surface of the globe then man would only have four years of life left. No more bees, no more pollination, no more plants, no more animals, no more man."
~ erroneously attributed to Albert Einstein since 1994, but still some truth in the dire statement
Now make a beeline to last week's "Type Bee". Catch you next week!
Creating Sweet Buzz for David Archuleta
Copy this short URL to share this post anywhere: http://www.dabuzzing.org/?p=7730

Tags: anniversary · beehive cake mold · DA Buzzing · Hey Nielsen · honey bee · Lorenzo Lorraine Langstroth
Filed in: columnists|David Archuleta|minja|music|opinions
This Post has earned 4 Buzzes.