Tonight in Salt Lake City David Archuleta begins a holiday tour for his debut Christmas album, Christmas from the Heart! My sister and I are very thankful for the opportunity to attend both the Santa Rosa and San Francisco shows. I love seeing David at smaller venues—I think he enjoys them too. Out of sheer holiday exuberance, I have formed a (fictitious) singing quartet called DA Glee Bees. The foursome is quite talented and will provide commentary on David's holiday performances.
Introducing DA Glee Bees Quartet!
During the Christmas from the Heart tour, we'll hear from our own resident singing quartet, DA Glee Bees. The Fab Four are often heard harmonizing in the beehive recording studio, Buzz Music. Although they haven't been singing long—due to their short lifespan—they write, record, and produce their own music. Their antennae are state-of-the-art. Each of them has an incredibly inhuman vocal range, but they will try not to sing outside the range of human hearing. haha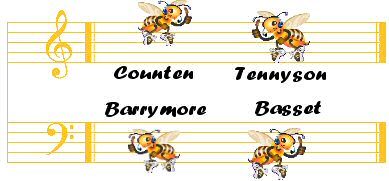 Meet the four-part quartet:
Counten the Countertenor: Counten is a lean, mean singing machine. His head voice, or as some call it, falsetto, has been rumored to make steel vibrate. "Wearing trousers three sizes too small is the secret to my extraordinary ability," says Counten.
Vocal range: from about G3 to E5 or F5
Tennyson the Tenor (lead): Tennyson takes the lead with a voice that resonates without amplification. After a famous production of Donizetti's La Fille du Régimentat, when Tennyson's string of high Cs left everyone gasping, a critic commented that Tennyson's vocal cords were "kissed by God."
Vocal range: roughly between B2 (2nd B below middle C) and A4 (A above Middle C), and possibly higher.
Barrymore the Baritone: Barrymore is a tall, barrel-chested he-bee with a strong set of vocal cords. He is almost as famous for his enormous appetite at table as for his enormous voice. "When I am on the stage," drones Barrymore, "I command it, and when dining, I command the maitre'd."
Vocal range: between G2 (two Gs below middle C) and F4 (F above middle C). Some baritones may be able to sing slightly lower or higher.
Basset the Bass: Basset is a little fat man with short legs, but he plummets the depths with his voice. In a recent production of Leonard Bernstein's Candide, Basset the Bass hit the optional B1 (a minor third below D2) in the solo bass aria, one of the lowest notes in human history.
Vocal range: roughly between E2 (Two Es below middle C) and E4 (The E above middle C), and possibly lower.
DA Honeybees Quartet will be courteous enough to wait until after they have heard David's holiday performances before commenting.
Buzzword
harmony
Main Entry: har·mo·ny
Pronunciation: \ˈhär-mə-nē\
Function: noun
Inflected Form(s): plural har·mo·nies
Etymology: Middle English armony, from Anglo-French armonie, from Latin harmonia, from Greek, joint, harmony, from harmos joint
Date: 14th century
1 archaic : tuneful sound : melody
2 a : the combination of simultaneous musical notes in a chord b : the structure of music with respect to the composition and progression of chords c : the science of the structure, relation, and progression of chords
3 a : pleasing or congruent arrangement of parts (a painting exhibiting harmony of color and line) b : correspondence, accord (lives in harmony with her neighbors) c : internal calm : tranquillity
4 a : an interweaving of different accounts into a single narrative b : a systematic arrangement of parallel literary passages (as of the Gospels) for the purpose of showing agreement or harmony
DA Honeybee Quartet makes sweet harmony this Thanksgiving, in tune with David Archuleta and his harmonious holiday tour.

Buzz-phrase
With Thanksgiving Day just two days away, let's have a song instead of a phrase. One of my favorite Thanksgiving tunes is "Come, Ye Thankful." In 1843 churches in Britain began a tradition of celebrating the autumn harvest, when the Reverend Robert Hawker invited parishioners to a special thanksgiving service at his church in Cornwall. "Come ye thankful people, come" was one of the Victorian hymns that helped popularize the Reverend's idea of the harvest festival. For the special service, churches were decorated with home-grown produce.
Come, Ye Thankful
Words: Henry Alford, Psalms and Hymns, 1844
Music: St. George's Wind­sor, George J. El­vey, 1858
Come, ye thankful people, come, raise the song of harvest home;
All is safely gathered in, ere the winter storms begin.
God our Maker doth provide for our wants to be supplied;
Come to God's own temple, come, raise the song of harvest home.

All the world is God's own field, fruit unto His praise to yield;
Wheat and tares together sown unto joy or sorrow grown.
First the blade and then the ear, then the full corn shall appear;
Lord of harvest, grant that we wholesome grain and pure may be.

For the Lord our God shall come, and shall take His harvest home;
From His field shall in that day all offenses purge away,
Giving angels charge at last in the fire the tares to cast;
But the fruitful ears to store in His garner evermore.

Even so, Lord, quickly come, bring Thy final harvest home;
Gather Thou Thy people in, free from sorrow, free from sin,
There, forever purified, in Thy garner to abide;
Come, with all Thine angels come, raise the glorious harvest home.
Now make a beeline to last week's "Type Bee". Catch you next week!
Creating Sweet Buzz for David Archuleta
Copy this short URL to share this post anywhere: http://www.dabuzzing.org/?p=7895

Tags: baritone · bass · countertenor · minja · quartet · tenor · Thanksgiving · Type Bee
Filed in: columnists|David Archuleta|minja|music|news|performances
This Post has earned 4 Buzzes.