David Archuleta brought holiday cheer to the Bay Area last week with two concerts in Santa Rosa and San Francisco. This tour follows the release of David's aptly-named debut Christmas album, Christmas from the Heart. He and his band, with opening act, Benton Paul, certainly brought a lot of holiday heart with them!
DA Glee Bees Quartet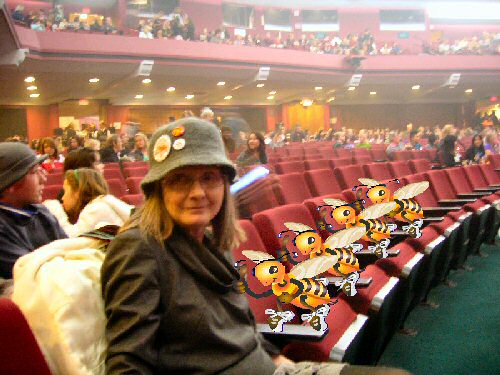 When I introduced you to DA Glee Bees, I had no idea they would be joining me at David Archuleta's Christmas from the Heart concert. But they refused to write their reviews unless they could go with my sister and me. I must say they created quite a sensation because they would not stay in their seats and kept buzzing around the theatre. Afterward, they told me it was very difficult for them not to join David on stage. Boy, am I glad they restrained themselves—I would have been mortified! I promised them if they would behave themselves, I would feature them on this blog.
Counten on "The Riddle"
Counten the Countertenor: I was impressed by David's falsetto on his cover of Five for Fighting's "The Riddle." It was written by John Ondrasik in 1995. Accompanying himself on piano, David sang the ballad with a beautiful head voice, navigating the intricate phrasing with an easy grace. His clear bell-like voice filled the theatre. As I told the press after the show, David sounded other-worldly and I was almost envious.
Listen to "The Riddle."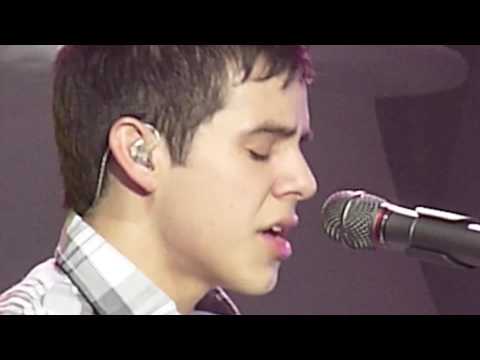 Tennyson on "Ave Maria"
Tennyson the Tenor (lead): David Archuleta sings the "Ave Maria" composed by Charles Gounod after Bach's Prelude No. 1 from the Well-Tempered Clavier, with lyrics from the Latin prayer. Written in G major, it is a challenging piece for any high voice. David has a sweet tenor voice "kissed by God" even when his voice cracks. The first thing singers learn about music is that it's not solely about hitting the notes. David's "Ave" never fails to produce a tingling frisson running up and down my spine.
Listen to "Ave Maria" in Santa Rosa, California.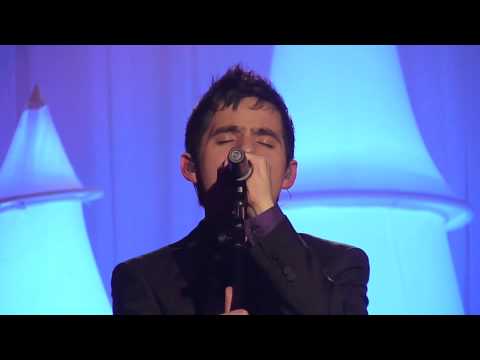 Then the following night in San Francisco, David, even more tired, managed to give us this:
Listen to "Ave Maria" in San Francisco, California.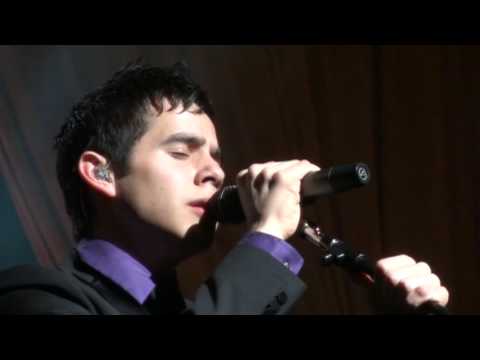 Barrymore on "The First Noel"
Barrymore the Baritone: Being a baritone, I naturally notice the lower range of any voice. At the concert in Santa Rosa, I thought David's speaking voice was much deeper than I have heard to date. I particularly enjoyed "The First Noel" with its great backup harmonies and cool key change on the word "Israel," which allowed David to demonstrate his baritone more strongly.
The video below contains several concert pieces, starting with "Pat-a-Pan." David banters with the audience before singing "The First Noel." There's even a little dancing and singing a snippet of Kirk Franklin's "Lovely Day."
Listen to "The First Noel" in Santa Rosa, California.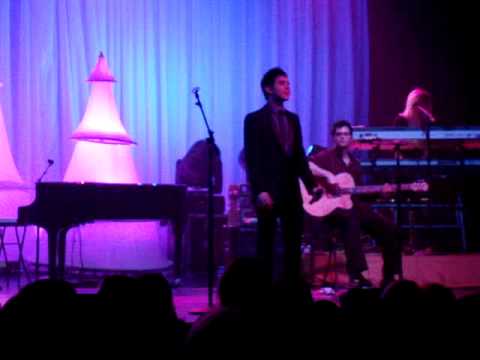 Basset on "Zero Gravity"
Basset the Bass: Since David Archuleta is a tenor, I wasn't expecting to hear many low tones. One of the lowest notes I heard was the pulsating bass beat in "Zero Gravity." The sustained bass was a perfect accompaniment to the vertical jump-dancing by both musicians and audience. The jump-dance gave me a feeling of weightlessness, quite an achievement for one with my girth. I enjoyed the high energy of "Zero Gravity," and judging by the high squeals in the soprano registry, there were many others who enjoyed "Zero Gravity."
Listen to "Zero Gravity"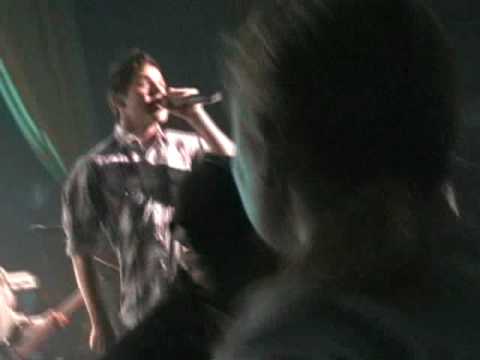 DA Glee Bees shout out "Bravo!"
in a sustained four-part harmony.
Buzzword
frisson
Main Entry: fris·son
Pronunciation: \frē-ˈsōⁿ\
Function: noun
Inflected Form(s): plural frissons \-ˈsōⁿ(z)\
Etymology: French, shiver, from Old French friçon, from Late Latin friction-, frictio, from Latin, literally, friction (taken in Late Latin as derivative of frigēre to be cold)
Date: 1777
: a brief moment of emotional excitement : shudder, thrill
David Archuleta's Christmas from the Heart produces a genuine and soul-stirring frisson of holiday excitement.

Now make a beeline to last week's "Type Bee". Catch you next week!
Creating Sweet Buzz for David Archuleta
Copy this short URL to share this post anywhere: http://www.dabuzzing.org/?p=8018

Tags: Ave Maria · Christmas concert · Christmas from the Heart · DA Glee Bees · minja · The First Noel · The Riddle · Type Bee · Zero Gravity
Filed in: columnists|David Archuleta|minja|music|performances|reviews|voice
This Post has earned 3 Buzzes.