Text messaging is making it easier and faster to be charitable. After the devastating earthquake that hit Haiti on January 12, millions of dollars have been raised—in small increments of $5 and $10 per SMS (Short Message Service). One cell phone company raised more than $1 million in a single day, beating its single day record of $450,000 when Alicia Keys appeared on American Idol and asked for donations to Keep A Child Alive.
TV, Social Networking, SMS: working for Charity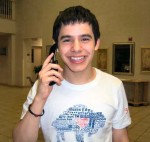 The mass appeal of television; the devotion to social networking websites such as Twitter and Facebook; the ease of text-messaging on cell phones: it's a combination that can "do something" good, especially when a natural disaster strikes a hapless country like Haiti. Good-hearted people the world over want to lend a hand. With a simple 5-digit text message we can send a little money to the Red Cross and other organizations. But how can we be sure the money is going to help the people of Haiti? It all depends on the charity, the donations processor, and the credit card company which accepts the payment. Be sure to choose a highly-ranked charity. Charity Navigator provides a list of 3 and 4-star rated charities with information about how each one plans to use the money to help the people of Haiti. Ask your carrier, which distributes the proceeds to the charity, if they will forego the processing fee they usually charge. Find out how much you can give in a text message; it might be more than $10.
How to Text a Gift:
Text "Yele" to 501501 to donate $5 on behalf of the Yéle Foundation, the leading contributor to rebuilding Haiti founded by Wyclef Jean.
Text "Haiti" to 20222 to donate $10 on behalf of The Clinton Foundation (former President Clinton is Special Envoy to Haiti)
Text "Haiti" to 85944 to donate $5 on behalf of the Rescue Union Mission and MedCorp International.
Text "Haiti" to 25383 to donate $5 on behalf of the Internal Rescue Committee.
Text "Haiti" to 90999 to donate $10 on behalf of the Red Cross in the U.S.
Resources: Record texting donations for Haiti top 2009
Practicing charity
Charity may begin at home, but as David Archuleta knows first-hand, it can lead a charitable person far from home. David spent last week in Central America on behalf of Mentors International, a nonprofit micro-finance organization that lends "A Hand Up, Not a Hand Out" to struggling entrepreneurs in developing countries.
For those of us who want to help, but have to remain at home, it's nice to know that our SMS dollars travel fast!
Until next week, here's the buzz word…
Buzz Word
charity
Main Entry: char·i·ty
Inflected Form(s): plural char·i·ties
Etymology: Middle English charite, from Anglo-French charité, from Late Latin caritat-, caritas Christian love, from Latin, dearness, from carus dear; akin to Old Irish carae friend, Sanskrit kāma love
Date: 13th century
1 : benevolent goodwill toward or love of humanity
2 a : generosity and helpfulness especially toward the needy or suffering; also : aid given to those in need b : an institution engaged in relief of the poor c : public provision for the relief of the needy
3 a : a gift for public benevolent purposes b : an institution (as a hospital) founded by such a gift
4 : lenient judgment of others
synonyms see mercy
Buzz Quote
And now abideth faith, hope, charity, these three; but the greatest of these is charity.
– Paul in Letter to the Corinthians, 13:13 King James Bible

Now make a beeline to last week's "Type Bee".
Creating Sweet Buzz for David Archuleta
Copy this short URL to share this post anywhere: http://www.dabuzzing.org/?p=9586

Tags: charity · earthquake · Haiti · Mentors International · minja · Type Bee
Filed in: columnists|David Archuleta|minja|music|news|performances
This Post has earned 1 Buzz.