Last week David Archuleta was working in recording studios in New York City. Professional orchestral musicians usually have practice time and a musical score right in front of them. The recording artist often has neither. What skills does David possess that make him a success in the sound booth? There are certainly many, but to name a few…
What's the Score?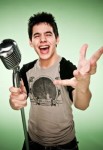 David Archuleta is a vocal virtuoso with prodigious skill and native talent. Though we fans have rarely seen him at work in the studio, it's easy to imagine that he brings enormous abilities to the sound booth. Producers, songwriters, other musicians, and engineers all sing his praises. He probably even makes friends with the guy or gal who brings in the lunch at break time. And while David is serious about music, he seems to have a lot of fun making music. His strong work ethic may be an inspiration to those lucky enough to work with him. Anyone who is around him longer than a minute will appreciate his creative and artistic aptitude.
David Archuleta, recording artist extraordinaire!
Here are a few skills that make David a great artist.
David can hear a recorded demo track of the vocal melody line and learn it by ear in record time, no pun intended.
He can quickly learn many parts of the songs to layer them for a fuller sound.
He understands time signatures and note values and can sing a major fifth above the note when asked.
With his good diction, he will avoid popping p's and spitting s's' and f's, saving the engineer lots of "fix it in the mix" work.
As a pianist, he can probably sight-read, as well as provide great improvisation to the arrangement.
What special skills do you think help David in the recording studio?
Sidebar: off on a tangent
On the liner notes of David's debut album, David Archuleta, is a list of the recording studios that were used. While most were in Los Angeles, there were a few oddballs, including one in Stockholm, Sweden, and another in Rockville, Maryland. For me the most intriguing one is The Fly And The Bee Studio in North Hollywood. Searching Google, I find only listings associated with David Archuleta. I wonder, could it be a digital recording studio set up in David's hotel room? haha! If so, it's quite a nice name, don't you think?

Now make a beeline to the previous "Type Bee".
Creating Sweet Buzz for David Archuleta
Copy this short URL to share this post anywhere: http://www.dabuzzing.org/?p=15563

Tags: minja · recording studio · Type Bee
Filed in: career|columnists|David Archuleta|minja|music
This Post has earned 6 Buzzes.