Want to bring people closer to music? It might be easier to bring the music closer to the people. What if someone put a piano on every street?
Play me, I'm Yours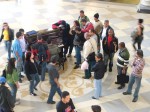 Touring the globe since March 2008, "Play Me I'm Yours" is an artwork founded and managed by British artist Luke Jerram. Street pianos are appearing in cities all over the world in skate parks, industrial areas, bus shelters, and train stations to "act as a catalyst for strangers who regularly occupy the same space, to talk and connect with one another." Kudos to Mr. Jerram! When he installed pianos in São Paolo, some people traveled for hours just to have the chance to play. Pianos in the Brazilian city are hard to find and cost a year's salary.
This summer sixty pianos will be placed throughout the five boroughs of New York City as part of the city's Make Music NY celebration on June 21. "Play me, I'm Yours" is a Sing for Hope benefit. Celebrities lending their endorsements and/or giving performances include Alicia Keys, actress Lauren Ambrose, celebrated baritone Nathan Gunn, Broadway performers Tituss Burgess and Emmy winner Kevin Mambo, and the cast of the Tony-winning revival musical Hair. "I believe in the creative potential of New York City, and I applaud Sing for Hope for everything it does to develop that potential," says Alicia Keys. "This summer, Sing for Hope will create a beautiful and worthy moment for our city by bringing the Play Me, I'm Yours "street pianos" to our city's parks and public spaces. It's things like this that make me extra proud to be a New Yorker, and the endless possibilities represented in these streets."
Street pianos dot com documents each piano's installation and the community's interaction with the pianos and one another. Pianos have been installed in London, Sao Paulo, Sydney, Bristol, Birmingham and Bury St. Edmunds. In 2010 'Play Me, I'm Yours' will be presented in London, New York City, Barcelona, Bath, Belfast,, Burnley and Blackburn, Pécs (Hungary), Cincinnati, and San Jose (US). The piano installation will be coming to San Jose, CA, September 16-19, 2010!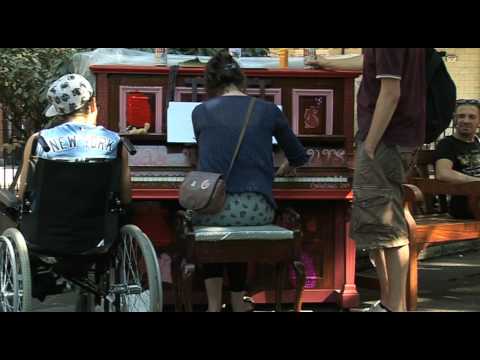 Now make a beeline to the previous "Type Bee".
Creating Sweet Buzz for David Archuleta
Copy this short URL to share this post anywhere: http://www.dabuzzing.org/?p=16458

Tags: art · Luke Jerram · minja · pianos · Type Bee
Filed in: career|columnists|minja|music|news|opinions
This Post has no Buzz yet.