"Type Bee" this week is brought to you by the humble but effective postcard. With an eye-catching graphic and a simple message, the postcard is an easy form of communication. For example: "Wish You Were Here" (message), "Michigan State Bird: The Mosquito" (humorous), "Portofino" (scenic), and…wait for it… "Two Thumbs Up, David!" (DA Honeybees) Oh, I know it is the 21st century and I'm not living in the past. I'm a techie—I send e-cards. But I still love postcards! The real ones that come in my mailbox from anywhere and everywhere. Remember, you can't delete a postcard.
DA Honeybees Postcard Blitz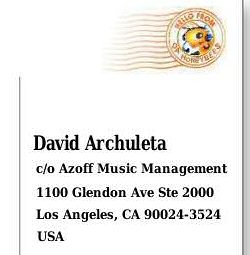 David Archuleta will release his first Christmas album on October 13. He and his production team have been working long hours on this album and from what we hear, Christmas from the Heart will be a holiday album to treasure always. Wouldn't it be great if David received a congratulatory postcard from each and every Honeybee? Let's get the hive together and send this "Two Thumbs Up" postcard to David on October 13. DA Honeybees is a hive that works together! We can give David "two thumbs up" and tell him how much we appreciate him. We have six weeks to get ready for DA Honeybees Postcard Blitz.
To participate in DA Honeybees Postcard Blitz:
Order DA Honeybees postcards soon and have them ready to be mailed on October 13.
Write a Thank You and Congratulations note to David on the postcard.
Sign your postcard "Honeybee USERNAME".
Mail the postcard to David's address given below on October 13.
David Archuleta
c/o Azoff Music Management
1100 Glendon Ave Ste 2000
Los Angeles, CA 90024-3524
U.S.A.
For your return address, you could use a mailing label or just write it by hand on the card. I suggest that you ask your post office to hand-stamp the postcard instead of using a machine to cancel the stamp. That way David will see the postmark "October 13, 2009" and perhaps your town's name.
When you order multiple postcards, you get a better per postcard price. So, you might order extras and have your friends and family send David a postcard too. If you have any questions, please contact me soon. I hope everyone can participate!
Tar in my Throat
David Archuleta has a way with words. Have you noticed? A phrase he used on Twitter the 9th of August caught my ear. Trying to sing while suffering from allergies, he described the feeling so well I knew instantly how he must feel.
Minnesota! Why are you always so awesome! I felt like there was tar in my throat lol. but I still had such a great time! Thanks!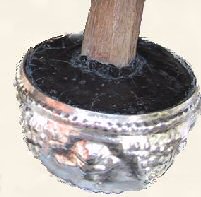 Tar in my throat is an expression which I had never heard. Can you imagine having a big bowl of tar for dinner and then trying to make polite conversation? What a terrible and scary feeling for a singer, knowing he cannot simply excuse himself, but must go on stage and sing! As a well-trained and dedicated singer, David knows how to protect his voice when he must sing with allergies, illness, or other difficulties. Antihistamines can cause dryness and corticosteroids can harm the voice. But when singers must perform, they do use these medicines. Some singers get by with non-drug therapies, such as rinsing the nasal and sinus passages, using saline nasal sprays, and taking bee pollen tablets. David often raves about the benefits of steam baths. He told us he had his Neti Pot with him on the summer tour and used it to help clear his sinuses.
Neti Pot demonstration; sorry, it isn't David!
Note: Let me explain my circuitous thinking. I heard "tar in my throat" and that made me think about a bowl of tar. My brain then went all loopty loop and came up with the art of repoussé. For centuries artisans have created beautiful objects, usually in metal, by pounding a design in relief from the inside out. Sometimes they coat the object with Chap Stick to help remove the metal from the tar or 'pitch' after the chasing on the front of the object is done. Repoussé is an ancient art of which a contemporary example is the Statue of Liberty.
Buzz-word
There is a word for the hobby of collecting postcards. Deltiology (from Greek δελτίον, deltion, diminutive of δέλτος, deltos, "writing tablet, letter"; and -λογία, -logia) is the study and collection of postcards.
Sounds so important, doesn't it? We Honeybees are deltiologists!
Check out last week's column. I'll be back next week. Will you? And, now, let's have a drumroll, please….
Buzz-phrase
If a man does not keep pace with his companions, perhaps it is because he hears a different drummer. Let him step to the music which he hears, however measured or far away.

– Henry David Thoreau (1817 – 1862), Walden, Conclusion, 1854
Creating Sweet Buzz for David Archuleta
Copy this short URL to share this post anywhere: http://www.dabuzzing.org/?p=4560

Tags: allergies · Christmas · minja · Neti Pot · postcards · Type Bee
Filed in: columnists|David Archuleta|minja|music|news|opinions|performances
This Post has earned 6 Buzzes.