The Do Bees and the Don't Bees are back! And you thought school was just for kids. haha! DA Honeybee Postcard Blitz: D-Day is October 13! Have you loaded up your missiles, uh, I mean, missives? We'll be firing off our Thumbs Up postcards when David Archuleta's Christmas from the Heart is launched. We're on a mission to thank David!
Do Bees and Don't Bees*
It's time to head back to school. We David Archuleta Honeybees have already earned advanced degrees at the D.A. School of Buzzness, but a refresher course keeps our minds sharp. Let's bring out the old chalkboard and review the basic "Do Bees and Don't Bees."
Honeybee 3cota gets an A for effort. The rest of the Honeybees have an incomplete. But it's early in the school year, so you all have time to complete your work.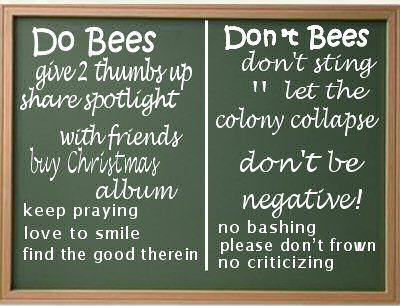 Dos:
» If one thumbs-up is the sign of approval, then two thumbs-up is the sign of dual-approval. DA, get it?
» Like when David asked his friend Ashlee to sing with him on stage, the spotlight grew.
» Christmas in September? Easy! Pre-order "Christmas from the Heart", David Archuleta's first holiday album.
» keep praying
» love to smile
» find the good therein
Don'ts:
» Sting and you die; 'nuff said.
» Support DA Hive at all costs!
» Don't be negative because then you cannot be positive.
» no bashing
» please don't frown
» no criticizing
The lesson for this week is to write your own "Do Bees and Don't Bees" list.
write three Dos and three Don'ts
enter your list in a comment below
make a copy for your records and to share with others
I'm sure I'll have to get a bigger chalkboard, because all the Honeybees will do good work.
* My thanks for Romper Room "Do be a do bee" memories, a nod to Fred "Yabba Dabba Do" Flintstone and apology to Frank "do be do be doo" Sinatra.
DA Postcard Blitz: D-DAY October 13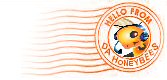 Recently, I read that honey bees can carry as many as 100,000 grains of pollen at once! (Maybe I should call DA Postcard Blitz the Postcard Swarm.) Like honeybees collect pollen, let's collect "Thumbs Up" postcards and send them to David Archuleta. DA Honeybees are getting together to send this "Two Thumbs Up" postcard to David on October 13. We'll give David "two thumbs up" and tell him how much we appreciate him. We have five weeks to get ready for DA Honeybees Postcard Blitz.
David Archuleta will release his first Christmas album on October 13. He and his production team have been working long hours on this album and from what we hear, Christmas from the Heart will be a holiday album to treasure always.
To participate in DA Honeybees Postcard Blitz:
Order DA Honeybees postcards soon and have them ready to be mailed on October 13.
Write a Thank You and Congratulations note to David on the postcard.
Sign your postcard "Honeybee USERNAME" and your real name if you like.
Mail the postcard to David's address given below on October 13.
David Archuleta
c/o Azoff Music Management
1100 Glendon Ave Ste 2000
Los Angeles, CA 90024-3524
U.S.A.
For your return address, you could use a mailing label or just write it by hand on the card. I suggest that you ask your post office to hand-stamp the postcard instead of using a machine to cancel the stamp. That way David will see the postmark "October 13, 2009″ and perhaps your town's name.
When you order multiple postcards, you get a better per postcard price. So, you might order extras and have your friends and family send David a postcard too. For those of you who like coordinated designs, you can also order a matching 28 cent postage stamp. If you have any questions, please contact me soon. I hope everyone can participate!
Superstar David Archuleta
Kudos to Disneydreaming.com for its announcement that superstar David Archuleta will be honored at the ALMA Awards. I love that they so accurately described David as a 'superstar'.
The annual ALMA Awards celebrates and honors Latino contributions in film, television, and music. Given that ALMA is Spanish for "spirit" or "soul", it is very appropriate that David has been honored in the Music category as the Male Rising Star. He will perform at the event. Perhaps, a song with a few Spanish lyrics? Whatever he chooses to sing, I know it will have a ton of soul!
Hosted by Eva Longoria Parker and George Lopez, the gala will air on Friday, September 18 on ABC at 8/7C. The show will feature a dazzling array of stars. From the NCLR website:
The NCLR ALMA Awards will continue its most popular segments, such as performances from some of the top acts in music today, including David Archuleta, Luis Fonsi, Nelly Furtado, Sean Kingston and Pitbull.
You can use ALMA Award's party toolkit to print a party invitation, a banner, and a poster to celebrate the ALMA Gala. If you don't plan to host a party, you can use the poster to publicize the event in your local community. I think I'll display the banner in a window.
Remember…the Buzz Formula!
Buzz Formula:

"Buzz = Word of Mouth + Word of Mouse"
Buzz-word
beeline n. from the belief that bees return to their hives in a direct line * Date: 1830
: a straight direct course
Let's use the word in a sentence: "On October 13 U.S. Post Offices were surrounded by a swarm of DA Honeybees making a beeline to mail postcards to David Archuleta."



Now make a beeline to last week's "Type Bee". Catch you next week! On a lighter note…
Buzz-phrase
If lawyers are disbarred and clergymen defrocked, doesn't it follow that electricians can be delighted, musicians denoted?
– George Carlin (1937 – 2008)
Creating Sweet Buzz for David Archuleta
Copy this short URL to share this post anywhere: http://www.dabuzzing.org/?p=4888

Tags: ALMA Awards · DA Postcard Blitz · Do Bees and Don't Bees · minja · thumbs up · Type Bee
Filed in: columnists|David Archuleta|minja|music|news|opinions
This Post has earned 8 Buzzes.