The Fall Fashion season has kicked into gear! Until David Archuleta came along, I thought I was out of style. My nerdy approach to fashion is YagNi, "You aren't gonna Need it." I rarely never buy something on impulse and then have to spend hours rearranging the closet to find something to wear with the darn thing. You didn't ask, but I'll answer the question, "What do I wear?" Jacket/sweater, shirt, and trousers. Comfortable shoes. A hat and sunglasses. My fashion motto is KISS: 'Keep it simple and stupid'. I'm not stupid but I like to wear clothing that is. "Ready-to-wear" is my label of choice.
David Archuleta Style
So how did David Archuleta help me make a fashion statement? you ask? It's the KISS approach he takes when choosing what to wear. Sweaters, vests, scarves, sneakers, comfortable jeans, and, occasionally, hats. Never too fussy, never extreme or excessive, but he always adds one thing that's cool, hip, graphical, interesting. That's how I dress now too. That's my style. I dress like a young man!
After the recent New York Fall Fashion show, I learned that David Archuleta is a fashion trendsetter. When I read some of the trends for this fall, a picture of David emerged for each item. I'm really going for this young unisex street style. It suits me to a T.
Hot Fall Fashion Trends:
Plaids, from gingham to buffalo patterns
Scarves around neck, waist, or head
Hardware, such as zippers, studs, buckles
Heavy-knit cardigans and shawl-collar knit sweaters
Vests, especially in faux fur
T-shirts, with funky prints, bold graphics
Canvas shoes, even with a suit
Peacoat, belted leather car coat, or wool topcoat
Also mentioned are boots and a 'statement coat'. Let's look to see if David will sport a pair of boots this autumn. As for a 'statement coat,' he has worn one.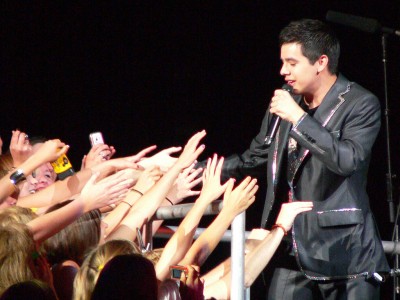 David Archuleta and FanGirls
Photo by v-williams1
The Nappi Appian Way
When David Archuleta was planning his first solo tour of the United States, he and his band wanted a distinctive look on stage. David didn't look to Paris or Los Angeles for the band's clothes. No, he found a hip designer from the Beehive State. He hired Utah-based clothing designer Danny Nappi to outfit the band. On September 26, Nappi opened his first all-Nappi store at 2105 S. Main Street in Salt Lake City. Watch this guy work a sewing machine! And that logo of the winged bull makes me want to run down the Appian Way in my Nappi jeans.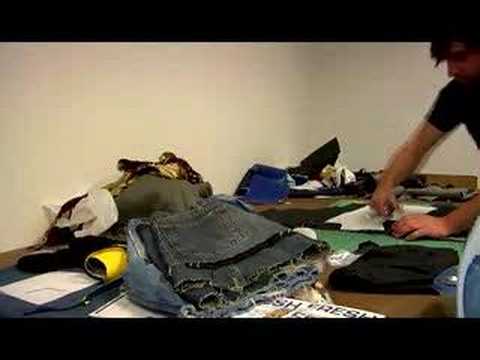 Nappi Clothing website coming soon
DA Postcard Blitz: D-DAY October 13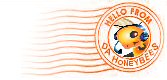 October 13, D-Day, is two weeks away! Do you have your "Thumbs Up" postcard? Review the plan of action and get all the details, including the mailing address for David Archuleta. If you need help or have questions, please contact me soon. I hope everyone can participate!
In celebration of Hispanic Heritage Month
Before Jose Feliciano, no one had ever taken liberties with "The Star Spangled Banner." Nearly forty-one years ago he sang "The Star Spangled Banner" at the World Series on October 7, 1968—and almost ruined his career.
Singing fashions may come and go, but Feliciano's music endures.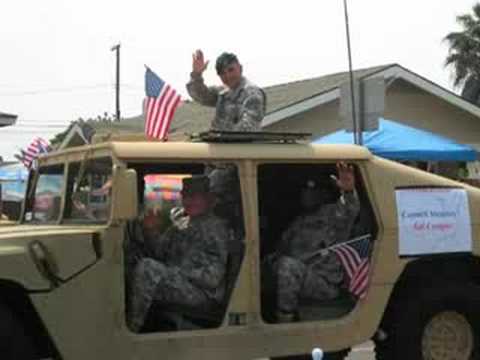 Buzz-word
androgynous
Etymology: Latin androgynus hermaphrodite, from Greek androgynos, from andr- + gynē woman — more at queen
2 a : neither specifically feminine nor masculine
b : suitable to or for either sex "androgynous clothing"




Now make a beeline to last week's "Type Bee". Catch you next week! Now one final thought…
Buzz-phrase
"Music is God's gift to man, the only art of Heaven given to earth, the only art of earth we take to Heaven."
~ Walter Savage Landor (1775 – 1864)
Creating Sweet Buzz for David Archuleta
Copy this short URL to share this post anywhere: http://www.dabuzzing.org/?p=5931

Tags: Danny Nappi · fashion · Jose Feliciano · minja · Nappi Clothing · Type Bee
Filed in: career|columnists|David Archuleta|minja|opinions|photos
This Post has earned 2 Buzzes.