DA week that was in the life of David Archuleta
Follow links above to the relevant sections below.
Keeping up with the über-talented, awe-inspiring, world-travelling David Archuleta can be a full-time job. Even the most (D)avid fans among us don't always have time to follow David. Here are some of last week's top stories about the awesome David Archuleta.
Media Headlines
News, Reviews, and Interviews
Odyssey unveils top 10 selling albums list
by Reyma Buan-Deveza, abs-cbnNEWS.com
20 October 2010
MANILA, Philippines – …Justin Bieber's "My World" (no. 6) and David Archuleta's "The Other Side of Down" (no. 7) also made it to the list….
It's great to see such good news from the Philippines. The buzz is that there's an Asian tour in the works!
Chart Moves: Lil Wayne, David Archuleta, Taylor Swift, Kanye West
by By Keith Caulfield and Silvio Pietroluongo, Billboard
21 October 2010
Sorry Archie fans, the former American Idol runner-up sees his sophomore studio set—somewhat unfortunately titled The Other Side of Down—experience the chart's largest percentage drop on the tally, as it collapses 13-71 with a 74% decline in sales in its second week (moving from 24,000 to 6,000)….
David Archuleta Stays Busy, Releases Third Album
by Alicia Rancilio, Associated Press Writer, ABC News
22 October 2010
There are two kinds of runner-ups on "American Idol": Those who fall off the radar (sorry, Blake Lewis) and those who stay on it. He may not be as splashy as Adam Lambert or sold as many total albums as Clay Aiken, but David Archuleta belongs in the latter category when it comes to second-place finishers on the Fox talent show….
David's World
Blogs, Tweets, Appearances
Blogs and Vlogs
A Day in the Life
on David Archuleta .com
18 October 2010
Ever wonder what a typical day in David's life would be like? Well now you can! AOL followed David for a day in NYC gearing up for the release of his album, The Other Side Of Down. Check it out!
Join the Official David Archuleta Website and sign up to receive newsletter updates of his appearances, music, photos, blogs, and more.
Appearances – Recent & Future
David Archuleta Talks Candidly About His New Album!
from SWRVtv on YouTube
22 October 2010
David Archuleta stopped by SWRV to talk about his new album, The Other Side of Down. Check out what he has to say about what inspired its musical sound!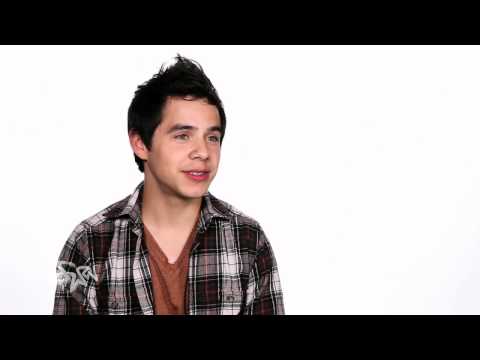 Video source: SWRVtv
Length: :48 minutes
David Archuleta on "Let's Talk Live"
from Let's Talk Live
22 October 2010
It was great to see David have a little time to expand on his thoughts about music. The interviewers didn't rush him or interrupt.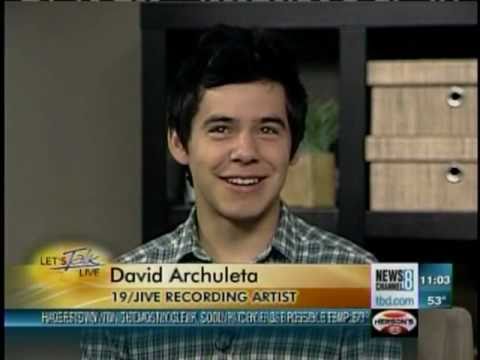 Video source: Archiedorable
Length: 7:20 minutes
David Archuleta's Day at the Kennedy Shriver Challenge
from Gossip Center
23 October 2010
Visiting the nation's capital for a good cause, David Archuleta partook in the Kennedy Shriver Challenge in Washington, D.C. on Saturday morning (October 23). The "American Idol" alum was among the performers at the event as he helped to raise money for the Special Olympics and Best Buddies International….Don't miss the photos!
Quick-glance Appearances Schedule:
October
2 October, joins Natasha Bedingfield at the ArtPrize Concert Series, Rosa Parks Circle, Grand Rapids, MI
6 October, appears on Regis and Kelly, ABC-TV.
8 October, Mentors International 2010 Annual Gala, Salt Lake City, Utah.
10 October, Skate for the Heart, to be aired in January.
11 October, WDJQ (Q92) Stripped Down Concert Series
19 October, Q92.9 FM Fall Q-Ball, Pittsburgh, PA
23 October, Eunice Kennedy Shrive Challenge for Special Olympics, Washington DC.
December
David Archuleta will be the youngest guest performer at the Choir's Christmas concerts. The free tickets will be available only by random selection. Register online at lds.org/events through October 18 or by phone at 801-570-0080 or 1-866-LDS-TIKS, Monday through Friday, 10 a.m. to 5 p.m.
Source for some of the appearances info: ArchuletaFanScene.com
Chords of Strength, David Archuleta's Best Selling Memoir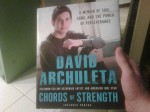 David has had several book-signing events in July. We'll let you know when more dates are scheduled. If you don't have a copy of Chords of Strength yet, buy today!
Amazon: $15.61 today
Penguin Books: Hardcover $22.95; eBook $10.99
Barnes & Noble: $16.52 online
Borders: Hardcover $22.95
DavidArchie on Twitter
Monday, 18 October
> "Your character is not based on what life gives you, but rather based on how you handle what life gives you."
Tuesday, 19 October
> Looking at food magazines. Makes me wanna learn how to cook! It'd be cool to make your own food and add the flavors and stuff.
> Wow I've passed 500,000 followers!!! Thanks you guys for following! Even with all my weird and dull things I say Haha
> In Pittsburgh, PA! Looking forward to the performance tonight for @ThinkPink benefit with Q92.9.
> Really awesome time tonight in Pittsburgh! Watching Gin Blossoms perform now.
>Went to eat at Primanti Bros. after the show. Wow… Haha it's an experience! Good turkey and chili!
Wednesday, 20 October
> Airplane rides are great because they give yourself time to think. No phones to distract you.
Thursday, 21 October
> Want to see what a day in my life is like? Haha you can check it out at this AOL Link: Day in DA Life?
> In Washington DC! Nice weather this evening.
> Had amazing food at Zaytinya tonight! So good. A mix of Greek, Lebanese, and Turkish food.
Friday, 22 October
> Doing a live interview with Let's Talk Live in just a few for the EKS Challenge.
> Had some Georgetown Cupcakes which were awesome! Now going to MSNBC to do an interview with Contessa Brewer.
> At the National Geographic headquarters. It's amazing! All the research that goes into the stories they do.
Saturday, 23 October
> At the Eunice Kennedy Shriver Challenge. All the runners running around and a beautiful day.
> Had such a great time at the EKS Challenge event! One of my favorite crowds I've ever gotten to perform for! Such high spirits.
David Archuleta has more than 500,000 Twitter followers!! Reaching for a cool mil! Follow DavidArchie on Twitter. Today he has more than 503,000 followers. During the past 26 weeks, David has averaged 5,692 new followers each week.
Fandom
Blogs, Stories, Charities
Stories
David Archuleta, Wikipedia's Most-Edited Music Star, and Either a Tenor or Baritone
by Daniel D'Addario, URLesque.com
6 October 2010
David Archuleta, American Idol runner-up in 2008, has become in 2010 the subject of a Wikipedia free-for-all, where the facts of his personal history and his career are up for grabs. On the "most edited pages" list for Wikipedia articles, his article sits at number 91 – very high for an artist who's been on the scene for two years, especially as Michael Jackson is number 115….
Oops! This was in my Weekly Wrap research folder two weeks ago, but I forgot to include it. Great story! People actually argue over whether David is a tenor. Don't they know how a baritone sounds?
The Other Side of Down Merchandise
Fea Merchandising in New Jersey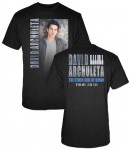 No tour dates have been announced yet for David's new album, The Other Side of Down. And yet we find this great tour t-shirt available online. This New Jersey-based merchandising company also sells items for Demi Lovato and Smashing Pumpkins. See list of stores.
Blogs
Tribute Video: David Archuleta Knows "Things Are Going to Get Better" – STOP BULLYING NOW!
by ArchieFanDoc, from Archuleta Fanscene
23 October 2010
…Whether you are being bullied, you have seen kids being bullied, or you're pretty sure you have bullied others, there are plenty of good things you can do to help make sure it doesn't happen again. No matter how you've been affected by bullying, it's a good idea to talk to an adult. Even though it's hard to talk to grown-ups sometimes, they can help! But there's way more to it than that….
Check out the Tips For Kids page and learn how YOU can make a difference….
Video source: MrDavidArchuleta
Length: 3:51 minutes
Did you miss last week's Weekly Wrap? If you've fallen far behind, you should seriously search the Archhives! It's not too late to reclaim your status as a David Archuleta fanatic fan!
DA Weekly Buzz about David Archuleta!
Copy this short URL to share this post anywhere: http://www.dabuzzing.org/?p=18222

Tags: Eunice Kennedy Shriver · Stop Bullying Now · SWRV · TBD · Twitter · Weekly Wrap
Filed in: career|columnists|David Archuleta|news|performances|Queen Bee|reviews
This Post has earned 1 Buzz.