"Type Bee" this week is brought to you by the Bee-Boys, Buttons, and other Buzz-words! Your comments, complaints, and queries will have to wait until minja returns from her search for a yellow and black bee outfit.
Bee-Boys in DA Hive
"Yo, where my bees at?" Häagen-Dazs has a Help the Honey Bees program (HDHB) to spread the word about the plight of the honey bee. According to their website, one out of every three bites of food taken by Americans is made possible because of the work of the humble honey bee. When I first visited the HDHB website at helpthehoneybees.com, I created a personalized honey bee. (She's supposed to look like me, but I think not.)

Häagen-Dazs must have dropped this neat feature because I can no longer find it, but it is a good example of viral marketing. The David Archuleta (DA) Honeybees are like the Bee-Boys. Both are using the techniques of viral marketing to identify individuals with high Social Networking Potential (SNP) and create Viral Messages that appeal to them. Like a honey bee making a beeline to her hive, DA Honeybees have a high probability of sharing those messages.
DA Honeybees are Alpha Users with high SNPs. Some of the factors that determine our individual SNP are:
participation in Social Networking activities
membership in David Archuleta's fan club and official website
publication/editing/contributions to websites & blogs like DA Buzzing.
frequency of distributing information within the DA network.
As we discovered on Hey! Nielsen, DA Honeybees are self-motivated. Marketers—I'm talking 'Jive' here—are interested in such highly-involved folks. H!N's purpose was to identify the core group of fans for TV shows, movies, music, etc., and give them a platform on which to express their opinions, thoughts, and ideas. "If you build it, he will come," said The Voice in Field of Dreams. DA Honeybees are building every day, using all sorts of materials. Just think how many times David's image is spread by the use of our avatars whenever we post a comment on a website that recognizes them! I was delightfully surprised the first time I saw my avatar on the WordPress.org Forum. There was David's hazel eye among all the other assorted icons of the WP blogworld. There among the geeks, gals, and gents was my idol!
Bees, Buttons, & Bows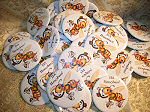 Eons ago I wore an Army surplus jacket covered with buttons, badges, bows, and pins. There were peace signs, hearts, animals, flowers, and slogans. If I still had it, it would be a collector's item. haha! Like wearing my heart on my sleeve, I felt proud to display these symbols in public. Over time I withdrew from such self-expression and almost forgot how much fun it was. Now that I'm a DA fan, I am proud to wear a David Archuleta t-shirt, put a Honeybee pin on my hat, and carry a David Archuleta tote bag. OMG, I just thought about a denim jacket in my closet that is too plain and boring.
Remember…the Buzz Formula!
Buzz Formula:

"Buzz = Word of Mouth + Word of Mouse"
Do Bees and Don't Bees*
It's time to head back to school. We David Archuleta Honeybees have already earned advanced degrees at the D.A. School of Buzzness, but a refresher course keeps our minds sharp. Let's bring out the old chalkboard and review the basic "Do Bees and Don't Bees."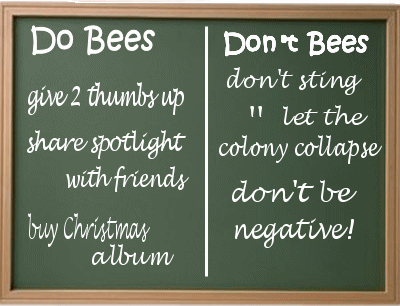 Dos:
» If one thumbs-up is the sign of approval, then two thumbs-up is the sign of dual-approval. DA, get it?
» Like when David asked his friend Ashlee to sing with him on stage, the spotlight grew.
» Christmas in August? Easy! Pre-order "Christmas from the Heart", David Archuleta's first holiday album.
Don'ts:
» Sting and you die; 'nuff said.
» Support DA Hive at all costs!
» Don't be negative because then you cannot be positive.
The lesson for this week is to write your own "Do Bees and Don't Bees" list.
write three Dos and three Don'ts
enter your list in a comment below
make a copy for your records and to share with others
Next week I will put the best Do Bees and Don't Bees on the chalkboard. Be brief because the board isn't huge.
* My thanks for Romper Room "Do be a do bee" memories, a nod to Fred "Yabba Dabba Do" Flintstone and apology to Frank "do be do be doo" Sinatra.
Buzz-word
3bee n. [perh alter of been help given by neighbors, fr. ME bene prayer, boon, fr. OE bēn prayer — more at Boon] (1769): a gathering of people for a specific purpose <quilting ~>
The word 'bee' is used to describe a get-together, such as a spelling bee or quilting bee. In this sense, the word comes from the Old English word bēn meaning 'prayer.' I didn't know that 'bee' is associated with the word 'prayer,' which in turn is associated with the word 'collect,' a brief formal prayer that is used in various Western liturgies.
If bees are praying when they gather to collect pollen, does that mean DA Honeybees are praying when we collect David's music and listen to his honey-toned voice? I think it does! I've often thought David's soulful sound is like a prayer.
If you didn't like this column, you could go back to last week's "Type Bee". Catch you next week! Until then, here's a thought….
"Yo, where my bees at?" No, not that one, this one…
Buzz-phrase
Ah, music. A magic beyond all we do here!

– J. K. Rowling, Harry Potter and the Sorcerer's Stone, 1997
Creating Sweet Buzz for David Archuleta
Copy this short URL to share this post anywhere: http://www.dabuzzing.org/?p=3750

Tags: avatars · Bee-Boys · buttons · Do Bees and Don't Bees · minja · Type Bee · viral marketing
Filed in: columnists|minja|music|opinions|performances|reviews|voice
This Post has earned 3 Buzzes.