This little Honeybee has been ill. What does a sick Honeybee do — well, I've been buzz-y doodling, drawing pictures. This is DA Honeybee Diet Plan. Instead of the USDA food pyramid, we have a beehive with interlacing and complex hexagons.
DA Diet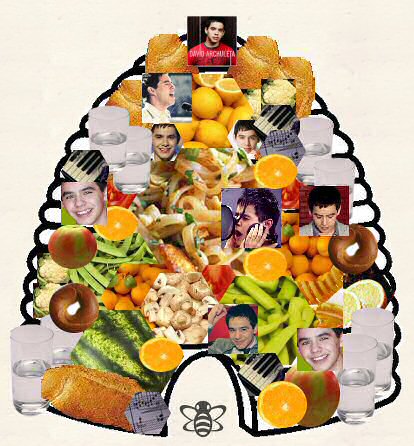 DA Honeybees do not live by nectar and honey alone. No, we need these Daily Allowances (DA)* to maintain our health and happiness. Luckily, these products are readily available.
David Archuleta Music to Feed the Soul
Pad Thai and other Asian delectables
Fresh Fruits & Veggies
Wholesome Breads
Water, Water Everywhere.
*Recommended Daily Allowances: unlimited servings per day
DISCLAIMER: Do not try the DA Honeybee Diet Plan unless your tongue is in your cheek.
Word Play: Find 3 Anagrams
The Demi Lovato summer concert took a detour when the last three shows were abruptly cancelled. The network of fans routed their displeasure. REQUEST and RESPONSE packets across the Internet were unsatisfactory and created an unanswerable LOOP. Fans of David Archuleta, who had toured with Ms Lovato since June, put a call to find those directly connected interfaces configured into the system and rebooted. Systems are up and running.
All is well. And, I might add, I'm getting healthier by the minute with my DA Honeybee Diet!
Have you found the anagrams?
This column is necessarily—perhaps, mercifully—short.
If you are hungry for more, try these previous Type Bee columns.
last week's "Type Bee"
first week's "Type Bee"
Don't forget to remember the Buzz Formula!
Buzz Formula:

"Buzz = Word of Mouth + Word of Mouse"
Until next week, here's a thought….
Buzz-phrase
Music's the medicine of the mind.

~John A. Logan
Creating Sweet Buzz for David Archuleta
Copy this short URL to share this post anywhere: http://www.dabuzzing.org/?p=4155

Tags: beehive · buzz · hexagon · minja · Type Bee · USDA
Filed in: columnists|David Archuleta|minja|opinions
This Post has earned 6 Buzzes.