We're entering the Home S-t-r-e-t-c-h! David Archuleta's "Christmas from the Heart" album will be released October 13. The holidays will be stretched out well before Halloween, and for the first time, I don't mind! Gosh, I'll probably be listening to "What Child is This?" in February.
David Archuleta's Stretchy Cheeks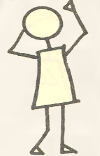 David recently tweeted that his dental hygienist said he has "nice, stretchy cheeks". His cheeks probably got that way from all the vocal exercises he has been doing since around age 6. Later in the same week David tweeted about more stretches—this time the P90X X Stretch. P90X is a 90-day exercise program developed by Tony Horton. It includes 12 DVDs, the seventh of which is the X Stretch. The extensive full-body stretches that make up this routine use disciplines from Kenpo karate, hatha yoga, and various sports to ensure that the body is fully prepared to meet all P90X challenges and to avoid burn-out.
This guy makes it look so easy and the music made me want to take a nap…or my pulse!
Here's a 7 minute video demonstrating more stretches.
Here are the 12 P90X exercises, or, as I refer to them, "How I plan to spend the 12 Days of Christmas."
01 Chest & back * I have both, one concave, the other convex.
02 Plyometrics * You've got a lot of nerve!
03 Shoulders & Arms * I use them every day.
04 Yoga X * I use the "Crescent Lunge" when I walk to the grocery store. Learned that from John Cleese.
05 Legs & Back * "I'm squatting and I can't get up!"
06 Kenpo X * Self-defense with "empty hands": to neither defend nor attack.
07 X Stretch * Open wide and say "ah." Now s-t-r-e-t-c-h again!
08 Core Synergistics * Alert! Muscle failure! Muscle failure!
09 Chest, Shoulders, & Triceps * I don't have any triceps
10 Back & Biceps * Back aches, biceps burn.
11 Cardio X * 'Muscle Confusion' is a good thing.
12 Ab Ripper X * Anything with the word 'rip' scares me.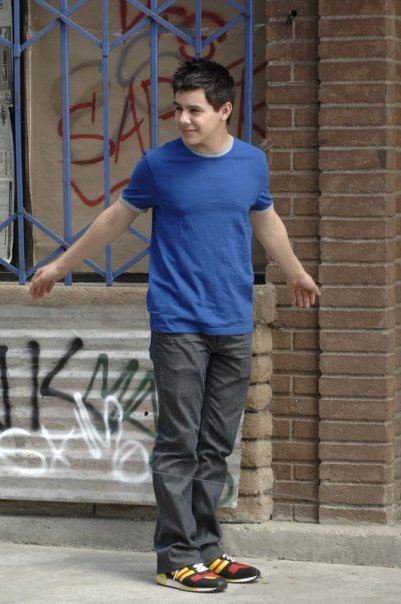 David Archuleta S-t-r-e-t-c-h-e-s Arms like Wings, Ford commercial, Photo by American Idol
DA Postcard Blitz: D-DAY October 13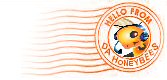 October 13, D-Day, is one week away! We're entering the home stretch!! Do you have your "Thumbs Up" postcard? Review the plan of action and get all the details, including the mailing address for David Archuleta. If you need help or have questions, please contact me soon. I hope everyone can participate!
Christmas album in 7 days!
Order yours today on Amazon.com!
Buzz-word
stretch
Main Entry: 1stretch
Pronunciation: \ˈstrech\
Function: verb
Etymology: Middle English strecchen,; akin to Old High German strecchan to stretch, Old English stræc firm, severe
Date: before 12th century
transitive verb 1 : to extend (as one's limbs or body) in a reclining position
5 : to cause the limbs of (a person) to be pulled especially in torture
Let's make a sentence: "P90X is an exercise program designed to stretch the human body beyond the stretching point." Wow, I used the word as a verb and an adjective.

Now make a beeline to last week's "Type Bee". Catch you next week! Now one final thought…
Buzz-phrase
There's music in the sighing of a reed;
There's music in the gushing of a rill;
There's music in all things, if men had ears:
Their earth is but an echo of the spheres.
~ ~ George Gordon Byron, Lord Byron, 1788-1824
Creating Sweet Buzz for David Archuleta
Copy this short URL to share this post anywhere: http://www.dabuzzing.org/?p=6099

Tags: Christmas album · minja · P90X X Stretch · Type Bee
Filed in: columnists|David Archuleta|minja|music|news|opinions
This Post has earned 1 Buzz.